From Securing Industry - Phil Taylor, 27-Apr-2016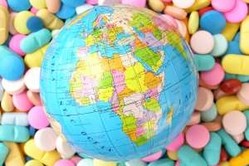 The lack of a standard protocol to conduct investigations and pursue prosecution is hampering efforts to combat the trade in counterfeit drugs, according to US researchers.

The goal of the research project, which is led by John Spink of Michigan State University, is to develop a crime scene investigation and forensic science model that can be used to prevent medicine counterfeiting, rather than relying on rapid intervention and response.

The team worked with enforcement agencies in Nigeria - which has mounted a major and multi-layered offensive against medicines counterfeiting for over a decade - to identify and define the factors that facilitate the trade in what the World Health Organization terms substandard/spurious/falsely-labelled/falsified/counterfeit (SSFFC) medical products.

Applying the principles of crime scene investigation and forensic science, they have developed a protocol that could allow enforcement agencies to anticipate the conditions that create counterfeiting or fraud opportunities.

One example of the approach taken is application of the crime triangle theory. For fraud to work, there has to be a victim, a criminal and a crime opportunity due to the absence of capable criminal enforcement. The space within the sides is the magnitude of the crime opportunity, according to Spink et al, who say their findings are applicable to countries around the world that have experienced cases of fraud.

"It's important to understand the different types of counterfeits, counterfeiters and counterfeiting organizations before selecting effective countermeasures," said Spink, whose team also included MSU's Douglas Moyer and Michael Rip.

"The goal is to reduce the size of the triangle; increasing the understanding of how and why fraudsters circumvent laws, audits and certifications helps achieve that goal."

In the case of Nigeria, the authorities adopted a multifaceted approach which included product authentication in the field using handheld scanners, adding serialized codes to some medicine packs in order to allow consumers to verify authenticity via text message and deploying other technologies such as RFID to allow retailer product authentication.

The government also engaged with source economies for SSFFC medicines to try to reduce imports, bolstered the capacity of enforcement agencies, tightened up supply chain regulations and worked hard to raise public awareness of the problem.

Overall, the researchers found that the country's efforts had been successful. Between 2000 and 2004, Nigeria reduced counterfeit medicines in its pharmaceuticals market from over 65 per cent to 16 per cent.

"Our paper provides real-world application of well-respected criminology theory, which is typically unconventional for public health professionals," says Spink, who is director of the College of Veterinary Medicine's Food Fraud Initiative at MSU.
 
"Let's be clear, though, launching or refinement in countermeasures or detection processes will be met with fraudsters' own countermeasures," he said. "An anti-counterfeit strategy should be dynamic and not be perceived as leading to ultimately fixing something."

"Preventing counterfeiting is more akin to managing a chronic disease such as diabetes rather than the one-time fix of an acute incident such as a broken leg."
https://www.securingindustry.com/pharmaceuticals/fight-against-fake-medicines-needs-criminology-theory-/s40/a2767/#.WOWcmRF1qPx